For the Love of Pete
Pete Seeger passed away in January of 2014. His wife and life partner, Toshi, passed not long before that. Tributes to their legacy were amongst the most memorable and significant gatherings and performances of the year. I was honored to be part of a few of them. Beautiful moments, heartfelt music and a profound sense of community are memories that will last a lifetime.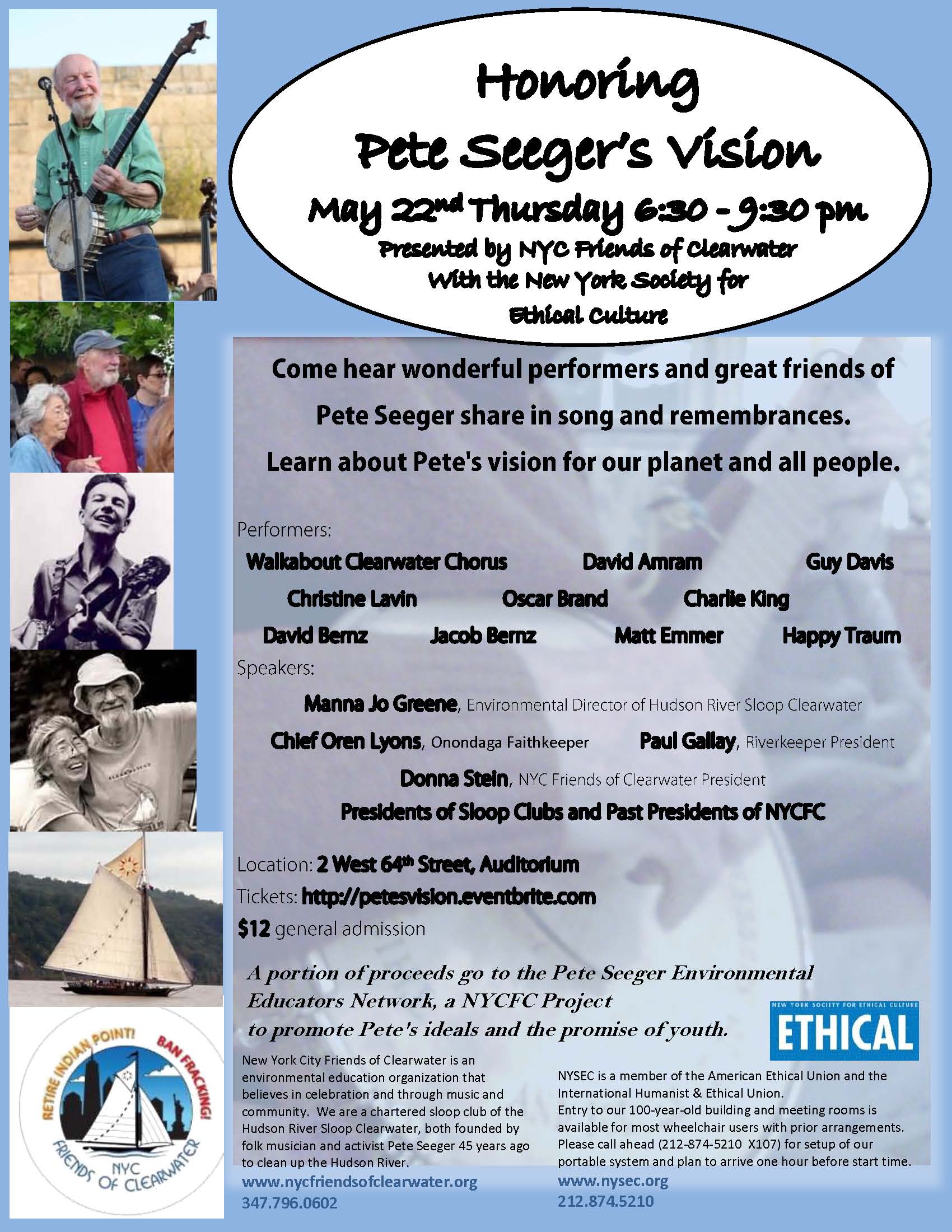 Wasn't that a Time!
May 22nd at the Ethical Culture Society in New York City
(click on flyer to the left for full size poster)
What an amazing lineup of love and music!
Thanks to the Ethical Culture Society and the New York City Friends of Clearwater for making this event happen.
Special thanks to New York City Friends president, Donna Stein for her relentless love and clarity of intention.
Saturday night, April 12th,
at the Peoples' Voice Cafe in New York City there was a tribute to the life and music of Pete Seeger at the Community Church of New York. Artists contributed their time and talent leading songs and singing with an overflowing audience that was more like a community that came to share their voices, time and memories together. I had the honor of leading one of the songs and sharing the stage with friends and my five year old daughter. I think Pete would approve. I also recorded the evening and have video and audio files to share of this remarkable event.
Here is a link to a page of photos, audio links and video links.
and,
here is a page telling a photo story of the entire evening.
Enjoy it all, and keep on singing! ~ joel

Here's a peek
at the music
and the evening at
the Judson Church.

Friday night, February 21st
at the Judson Memorial Church in Greenwich Village, New York City
It was an warm, well attended and intimate celebration of Pete and Toshi Seeger's lives. The worlds they moved, the movements they shaped, the hearts they touched and the songs they helped us sing...
all of that and more was shared by those who came.
There was music and stories, Pete pictures and videos, and lots of food, but mostly there were spirits gathering to share their humanity and the difference one person can make in one lifetime.
I had the honor of hosting the music and story circle in this free to the public event, including as many people as possible to voice their tribute to Pete Seeger. There were many who volunteered to make this evening possible, including the staff and ministers at the Judson Church, and Donna Stein, Edie Kantrowitz and other volunteers from the NYC Friends of Clearwater. If you want to join the NYCFOC in continuing the work of protecting and maintaining the Hudson River, connect with them at www.nycfriendsofclearwater.org
I believe Pete would approve.